Wendy Williams 'Super Scared' as Staff Wants Nick Cannon to Replace Her Permanently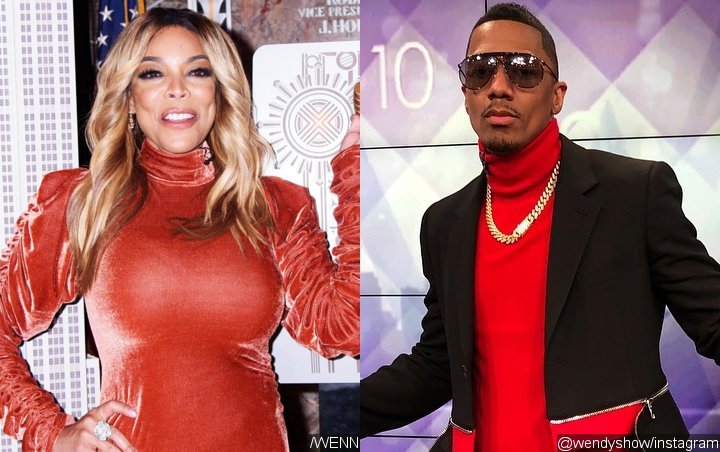 A new report claims that the staff thinks the daytime host is no longer 'authentic' for 'Hot Topics' segment while she's dealing with 'cheating' husband herself.
AceShowbiz –
"The Wendy Williams Show" enlisted Nick Cannon to temporarily guest-host the show while Wendy is recovering from Graves' Disease. Although the "Wild n Out" host only took over several episodes this months, it was said that many loved to see Nick on the show, making Wendy grow anxious over her own gig.
Daily Mail claims that staff thinks that Wendy is no longer "authentic" now, adding that several longtime employees felt blindsided with her decision to take some time off the show. It is also said that they believe Wendy is taking a break to deal with her "cheating" husband Kevin Hunter.
"I mean it's probably time Wendy steps away from the show. She's not authentic anymore. How can she discuss hot topics when the biggest topic involves her husband publicly cheating on her for years?" a source reveals to the outlet. "It's really sad as you'd think that Wendy would have more respect for herself and she would stand up, dump her cheating husband, take control of her business and empower women who are going through the same thing."
"This is her chance to be a role model, but she's letting women everywhere down by not being the boss that she pretends to be on her show," the insider continues. "Think about it – Oprah [Winfrey] or Ellen [DeGeneres] never treated their audience and staff like this on their shows. So it's time Debmar stepped up, said goodbye to Wendy and Kevin and hired Nick to take over. However, if he says no, we'd happily take Jerry O'Connell who is also a joy to work with."
Another source spills to Page Six that Wendy is "super scared and anxious." The source goes on explaining, "Watching [fill-in host] Nick Cannon being a huge hit with her audience is tough for her. They're already starting to mess with the format. It's like watching them screw around with her baby."
Meanwhile one other source close to the daytime talk show begs to differ. Talking to HollywoodLife.com, the source says, "Wendy is confident that she is irreplaceable on her own show, no one can do what she does as well. While Wendy still has no timetable as to when she will return, she is excited and looking forward to returning as soon as possible."
"Wendy is grateful for her guest hosts, who have been filling in while she has been out, and thinks they are doing a great job," adds the source. "She is also happy, healing and excited to get back to work. She can't wait to get back to her show and deliver like only she can for her fans."
In addition to Nick, who hosted from February 4 to 6, the show tapped Jason Biggs who took over the February 7 episode. As for rumors of Nick coming for Wendy's hosting duty, the source insists that "Nick doesn't want her job, even if it was offered."
"He has his own late night show coming up on FOX which will have a different feel to it because he can't talk the way Wendy does on her show," the source adds, referring to FOX's new hit show "The Masked Singer". "Nick avoided certain issues while guest hosting on her show because he is friends with a lot celebs and he can't do the show the way Wendy can…no one can do the show the way she can."