Watch Chance the Rapper, Travis Scott Honor Mac Miller at Touching Tribute Concert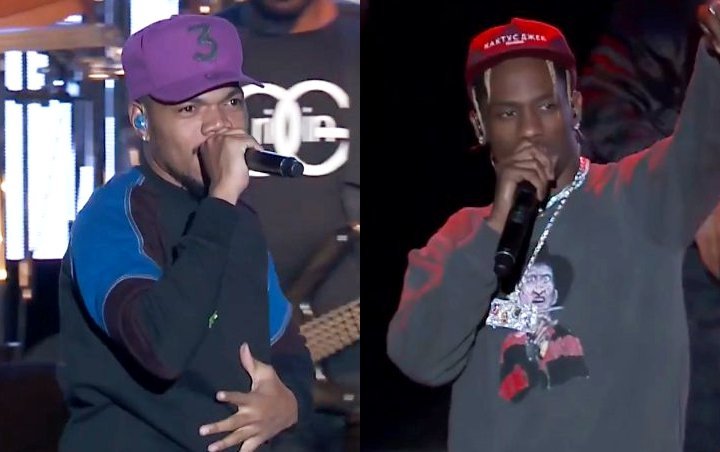 Also hitting the stage to pay tribute to the late rapper are John Mayer, Miguel, Rae Sremmurd and Ty Dolla $ign among others.
AceShowbiz –
Mac Miller's life and legacy were celebrated at a tribute concert which was held on Wednesday, October 30 in Los Angeles. Among the acts who took the stage to pay tribute to the late rapper were Travis Scott (II), Chance the Rapper and John Mayer.
The concert began with a video montage of Mac from his childhood to the time when he had already been a successful musician, showing his passion for music. Following performance from the likes of Action Bronson and Earl Sweatshirt, Ty Dolla $ign hit the stage to deliver rendition of "Cinderella" and "Paper Route" before blending with the crowd for a performance of Mac's favorite song "Blase".
');(playerPro=window.playerPro||[]).push(i);})();
John later came to the stage to deliver a few words remembering the rapper prior to his set. "I saw Mac play this at Hotel Cafe a couple months ago, and he got onstage and he said he was really nervous," he said before covering Mac's hit "Small Worlds". "And now, Mac, I'm really nervous. So we got that in common too. This one's for you." Besides "Small Worlds", he belted out his own song "Gravity".
Not only honoring the "Dang!" rapper, but the audience were also asked to take a moment of silence by Zane Lowe for the recent Pittsburgh synagogue shooting. He later gave a heartwarming speech about Mac, recalling the things that the latter always said to him, "If you wanna know me the best chance is to listen to my music."
The concert then continued with performances by Miguel, Rae Sremmurd, Schoolboy Q and SZA. "Without Mac, there would be no me," the songstress during her set. "He gave a lot of us our first chance." Chance, one of the closest artist to Mac, then graced the stage to deliver renditions of "Blessings", "Work Out" and "No Problem". Of course, he also said a few words of his friend, thanking him for "the friendships you built through your music and your artistry."
Closing out the show, Travis belted out some of his hit songs, "Goosebumps" and "Sicko Mode" and also shared a message of love. "No matter if you mad at somebody, the next day check on them," the 26-year-old spitter said. "We all know Mac is watching over us. He's gonna keep us safe in this world."
Some musicians couldn't make it to the concert, but they made sure to pay tribute to Mac in the form of video. Pusha T, Pharrell Williams, Lil Wayne and Childish Gambino (Donald Glover) were among them, with the latter saying in his video, "Thank you, Malcolm, for sharing your soul with us. Your beauty, and especially your love of music."
Noticeably absent from all footage was Ariana Grande, who dated Mac in the past and collaborated with him on a few songs.
Profits from the concert will be donated to the Mac Miller Circles Fund that supports youth arts and community-building programs.