Video: Girls' Generation's Yoona and Hyoyeon Nail 'In My Feelings' Challenge With Cuteness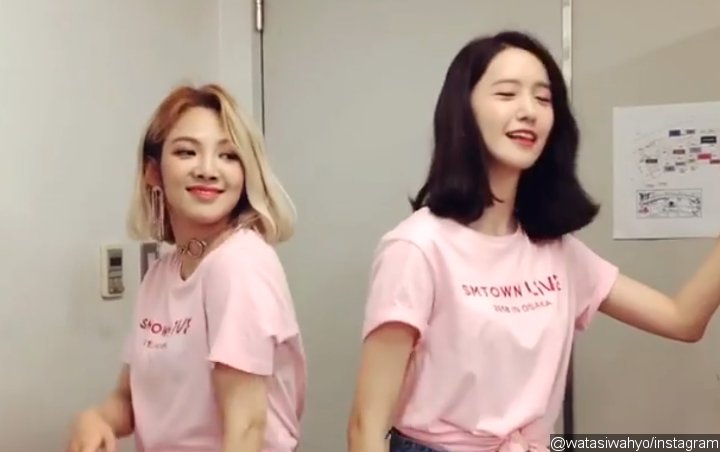 The two members of the South Korean girl group tackle the challenge in the midst of the SMTOWN concert.
AceShowbiz –
The "In My Feelings" a.k.a. "Keke" challenge has spread across the globe since it's gone viral. South Korean stars Yoona and Hyoyeon of girl group Girls' Generation's have now joined the list of a handful of celebrities who have participated in the challenge.
Widely known as good dancers, the two idols had no trouble copying the moves, which were first made popular by social media comedian Shiggy, while Drake's song "In My Feelings" played in the background. Clad in matching pink shirts, Yoona and Hyoyeon added tons of cuteness as they filmed their video backstage of the SMTOWN concert.
Hyoyeon took to her Instagram account to share the clip. "Do u love me??" she captioned it, adding the hashtags #kiki #kikichallenge, which is how "keke" is spelled in most Asian countries.
Fans are totally loving it, with many taking to the comment section to express their admiration to the two singers. "im not kiki but i love you," one wrote. "The best kiki Challenge," read another comment. Another agreed, adding, "Nothing beats Yoona and Hyoyeon's energy. The best kiki challenge."
While Yoona and Hyoyeon's version of the "Keke" challenge is safe to do, many people have taken it to the next level in extreme ways. Some people fell on the streets after attempting to do it while jumping out of a moving car.
This prompted National Transportation Safety Board of the United States (NTSB) and international police forces to release a warning about the dance challenge. NTSB posted on their official Twitter account on July 27, "#OntheBlog we're sharing concerns about the #InMyFeelings challenge while driving. #DistractedDriving is dangerous and can be deadly," the post read. "No call, no text, no update, and certainly no dance challenge is worth a human life."
According to police authorities, anyone who are caught hopping out of a moving vehicle to dance will be fined at least $1000.