Teresa Giudice Ditches Wedding Ring Amid Joe's Looming Deportation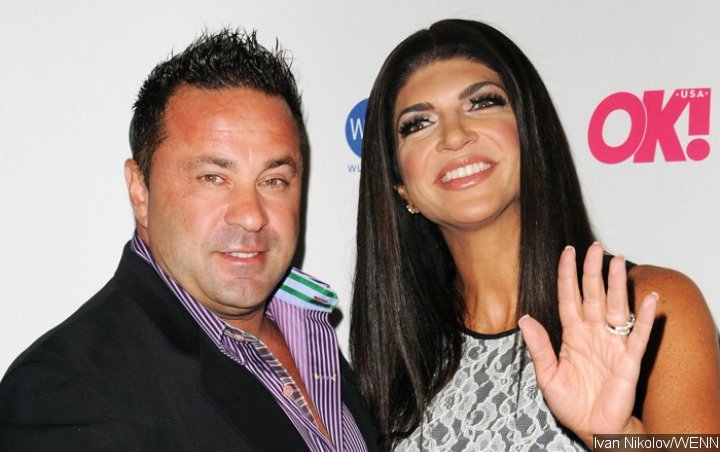 Meanwhile, her 'The Real Housewives of New Jersey' co-star Jackie Goldschneider admits she doesn't feel sympathy for Teresa over Joe's possible deportation.
AceShowbiz –
Teresa Giudice is already living her life like she's officially single while she's still legally married to Joe Giudice. The Bravo reality TV star was recently spotted ditching her wedding band after confirming that she would dump her husband if he is deported.
The 46-year-old was spotted out and about on Thursday morning, March 7. Grabbing breakfast with a female friend in New Jersey, she was seen without her wedding ring on as she left a restaurant. The mother-of-four's bare hand was captured on camera as she walked to her car.
Teresa dressed for comfort during the outing, wearing an all-black ensemble which consisted of a black top, a jacket, leggins and black shoes. She got her hands full with a bottled water, a purse, handphone and what looked like a car key.
Her outing comes on the heels of her admission that she and her husband Joe will split if he's deported back to Italy. "I'm not doing a long distance relationship. I'm not doing it," she said in the final part of "The Real Housewives of New Jersey" season 9 reunion. "I want somebody with me every day." She defended her decision, "I know exactly what happens – I'm sure he'll be with other women. It happens. You do the long-distance thing, it's not going to work. I'd be like, 'Bye bye.' "
Teresa said there's only one solution for them to stay together as a couple, but it takes their daughter's willingness to move to Italy. "I mean, unless my kids say, mommy I want to move to Italy," she said, before adding that she's not going to uproot her children, because "they've been through so much already."
Meanwhile, Teresa's "RHONJ" co-star Jackie Goldschneider can't feel any sympathy for her. "I feel awful for her children. I really do. I can't imagine my children being ripped away from their father," Jackie tells TooFab. "And I actually feel pretty bad for Joe. Even if he broke the law, I think it sucks for him to have to serve time and then have to leave. But as the reunion went on, I found it hard to feel bad for Teresa."
Looking at the way Teresa has behaved so far, Teresa says, "I think that Teresa was already moving on with her life." She adds, "So for her to sit there and say, 'This is my life. I'm going through this right now,' I don't really buy it all."