Steve Harvey's Daughter and Her Mom Face Backlash for Kissing on the Lips in New Pic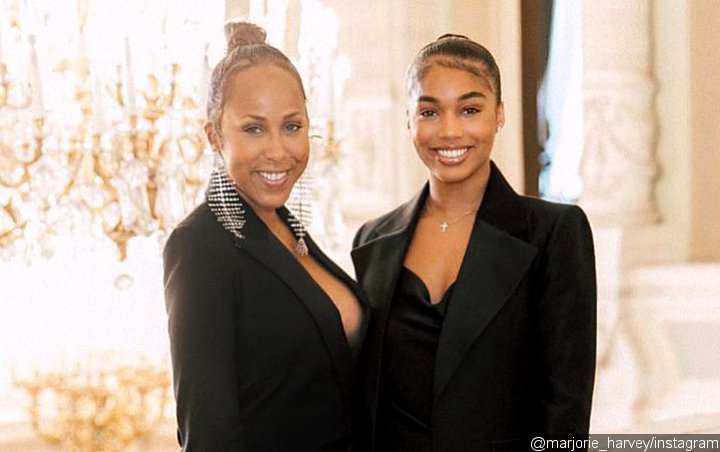 In the Instagram picture which is taken at the Yusopov Palace in Russia, Lori Harvey is seen giving her mom, Marjorie, a kiss on the lips as they are twinning in a black blazer and a skirt.
AceShowbiz –
There are a lot of ways for parents to show affection towards their children, be it physical contacts or giving touching presents. While there are parents who flaunt their love by kissing their kids on the lips, it is rare to see parents doing that when their children have already become a fully grown person. Thus, when Steve Harvey's wife, Marjorie, posted a picture of her and daughter Lori kissing, people have some thoughts.
Marjorie has been documenting on social media her trip to 12 countries across three continents with Lori. The former recently shared a series of pictures of the mother-daughter duo spending time together at the Yusopov Palace in Russia, and one picture successfully caused controversy as it featured them kissing on the lips. Both of them were twinning in a black blazer and a skirt, styling their hair into a neat bun.
"Disgusting. I see dads doing it with their daughters too and feel instant nausea. What's wrong with a peck on the cheek?" one commented. "Once you're old enough to suck a d**k… that should be the end of this," another said while one other wrote, "They are too old for that. A kiss on the cheek is more than fine. And if it was her father kissing her on the lips, they'd go crazy trying to call him incestual, idk why they only target males, bc there are lesbians and bisexual and Lori is one."
Even though both Lori and her mother have yet to respond to the backlash, some of their followers have come to their defense. "Absolutely beautiful and if you find anything strange about the kiss… your mind id perverted," one follower said as someone else hit back at the critics, "Y r people getting upset about this pic. It's a mother & daughter. It just shows the close relationship that they have. Get your mind out of the dang gutter."