Six Times Mac Miller Cries for Help Through His Songs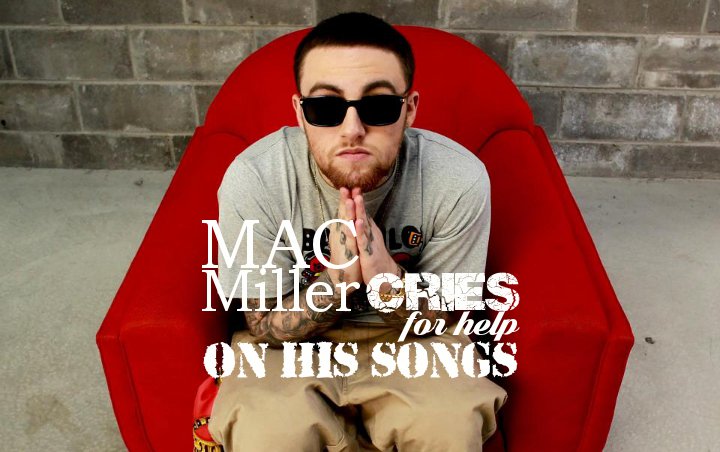 Through some of his songs, the late rapper seemingly told his listeners that he didn't want to die young.
AceShowbiz –
Mac Miller, whose birth name is Malcolm James McCormick, was found dead on Friday afternoon, September 7 of a suspected drug overdose. The late rapper had long struggled with substance abuse and had been open about it whether on interviews or on his own songs.
Miller was known for his relatable lyrics, which often dealt with depression and unhappiness. Even though most of his songs were about how he found it normal to be unhappy, there were times when he realized that his drug addiction would eventually led him to his demise.
As family, friends and fans continue mourning the death of the rapper, let's take a look at all the time Miller seemingly cried for help on his songs.
1. 'Small Worlds' (2018)
---
"Small Worlds" was included on his latest album "Swimming", which was released on August 3. The song featured him rapping about how he tried to do better in life, but he knew his time was coming soon. "That's why I wrote this song, told myself to hold on," he rapped. "I can feel my fingers slippin'/ In a motherf***in' instant, I'll be gone."
2. 'What Do You Do' (2014)
---
In the song, which was featured on his mixtape "Faces", Miller explicitly stated that he knew his drug abuse would make him die. Referencing Philip Seymour Hoffman, he spitted, "A drug habit like Philip Hoffman will probably put me in a coffin." Hoffman died in February 2014 of combined drug intoxication.
3. 'Weekend' Ft. Miguel (2015)
---
Featuring Miguel, the "GO:OD AM" track talked about how Miller wanted to know what things which could keep him alive, because he was too stressed to do anything. "I been having trouble sleeping/ Battling these demons," he rhymed. "Wondering what's the thing that keeps me breathing/ Is it money, fame or neither?"
4. 'Ave Maria' (2014)
---
The song featured him mentioning about a "devil" who was more than ready to take his life. It was clear that he wanted to fight back the devil, but he was fully aware that he couldn't. "Born dead, they had to dig up my fetus," he rapped. "And now the devil want to tear me to pieces."
5. 'Self Care' (2018)
---
"Self Care" was a song which found Miller explicitly stated how he needed someone to save him from himself. Rapping about how he had been "losing his mind" due to all the things that happened in his life, he continued, "Somebody save me from myself, yeah."
6. 'Grand Finale' (2014)
---
Miller previously stated that he wanted to commit suicide after writing this song. That explained why the song found him talking about the after life. "Let us have a grand finale/ The world will be just fine without me," he rhymed.