Selena Gomez Proudly Wears 'Ugly' Hair Clip in Response to Stefano Gabbana Diss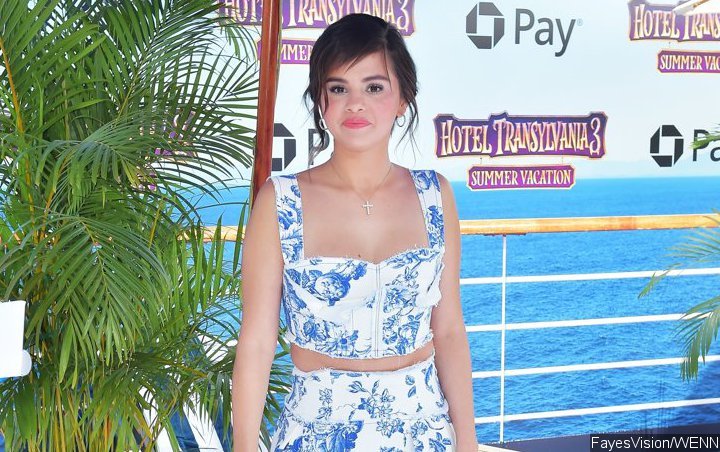 The 'Wolves' singer appears to clap back at the Italian fashion designer for calling her 'ugly' by wearing the bedazzled hair pin bearing the word.
AceShowbiz –
Selena Gomez was apparently fully aware when Italian designer Stefano Gabbana called her "ugly" last summer. But instead of letting it bring her down, the 26-year-old actress/singer clapped back at her hater in the most glamorous way possible.
The former "Wizards of Waverly Place" star stepped out on Tuesday, September 11 in New York City wearing an "Ugly" bedazzled pin on her hair, which was pulled back in a ponytail with a braided center. It was a silent, yet powerful response to Gabbana's mean comments.
Looking stylish in a black top, a leather jacket with a blue fur-like collar and red plaid pants, the "Fetish" songstress also rocked red nail polish and round earrings. She completed her look with a black handbag and matching pointed heels.
Selena Gomez Bejewels the Word 'Ugly' in Her Hair – Here's Who She's Clapping Back At https://t.co/Kosf79aVHP

— People (@people) September 12, 2018
Back in June, Stefano Gabbana angered Selena's fans after calling the star "ugly" in a comment of a picture featuring the former Disney darling posted on Instagram by The Catwalk Italia. When another commenter suggested Selena "looks like a Pomeranian dog," Stefano went even further by supporting the diss in a cruel response, "hahahahahaha is true hahahaha."
His mean comments landed him in hot water, with "13 Reasons Why" actor Tommy Dorfman slamming the fashion designer online. "@stefanobabbana you're tired and over. your homophobic, misogynistic, body-shaming existence will not thrive in 2018," he wrote, "it is no longer tolerable or chic. please take many seats."
Miley Cyrus also came to Selene's defense, writing, "Well what the d**k head said (if it's true) is f***king false and total bull s**t. She fine as f**k.
Another Instagram user commented, "Shame on you for online bullying. Doesn't matter if 1 million people see it or 1 person, it's bullying. It's wrong." Someone else wrote on Twitter, "dear Stefano Gabbana, it's because of people like you that young girls around the globe have body image issues. that comment was beyond despicable and you REALLY lost all the respect the fashion world had for you constantly acting so immaturely. no class whatsoever."