Ryan Reynolds Covered in Blood in First Set Photo of 'The Hitman's Bodyguard' Sequel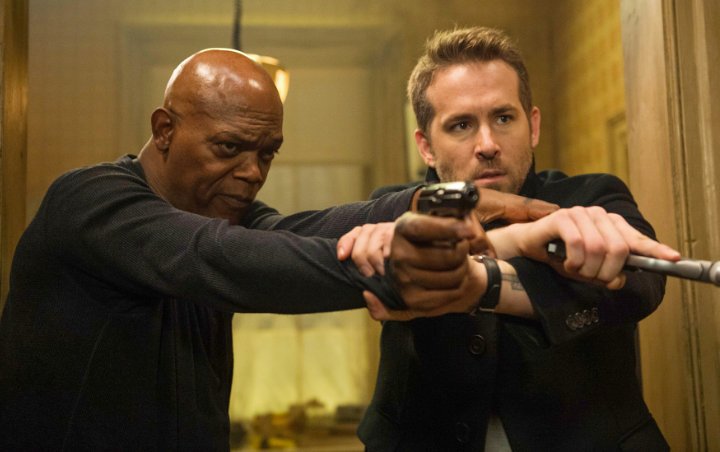 The 'Detective Pikachu' star reunites with Samuel L. Jackson and Salma Hayek in the photo from the set of 'The Hitman's Wife's Bodyguard'.
AceShowbiz –
Ryan Reynolds is reporting for duty from the set of "The Hitman's Wife's Bodyguard". The Canadian actor has begun filming "The Hitman's Bodyguard" sequel and took to Instagram on Tuesday, March 12 to share the first behind-the-scenes look at the upcoming movie.
The "Deadpool" actor is reunited with his co-stars Samuel L. Jackson and Salma Hayek in the image. He was apparently filming one bloody action scene that day as he was seen sporting blood spatter on his face and blue shirt. "Two Guys, A Girl and-OH MY GOD WHAT THE F**K? Here we go again…," he captioned it.
While Reynolds was clearly wearing makeup for the filming, it's not clear if Jackson and Hayek were also in costumes as their characters. Both of them seemed to be wearing casual outfits and their faces were not covered in blood as Reynolds'.
In "The Hitman's Wife's Bodyguard", Reynolds reprises his role as the world's top protection agent Michael Bryce. Jackson returns as Michael's mortal enemy Darius Kincaid, with Hayek reprising her role as Darius' wife Sonia. This time, Michael joins Darius and his wife Sonia on a mission along the Amalfi Coast.
Morgan Freeman is confirmed to be joining the cast, though his role is still kept under wraps. "Captain America: Civil War" actor Frank Grillo is also starring in the upcoming action-comedy movie in an undisclosed role.
Patrick Hughes once again directs the movie, with Tom O'Connor returning to provide the script. Filming is set to place in several countries across Europe, including Italy, Scotland, Bulgaria and United Kingdom. No release date is announced yet for the pic.
The first movie follows Michael, who is called upon to guard the life of his mortal enemy, one of the world's most notorious hitmen Darius. During their raucous and hilarious adventure from England to the Hague, they encounter high-speed car chases, outlandish boat escapades and a merciless Eastern European dictator (Gary Oldman) who is out for blood.
It grossed $176.6 million worldwide against a production budget of $69 million despite not-so-favorable reviews from critics.