Report: Angelina Jolie Dragging Out Divorce With Brad Pitt in Hopes of Reconciliation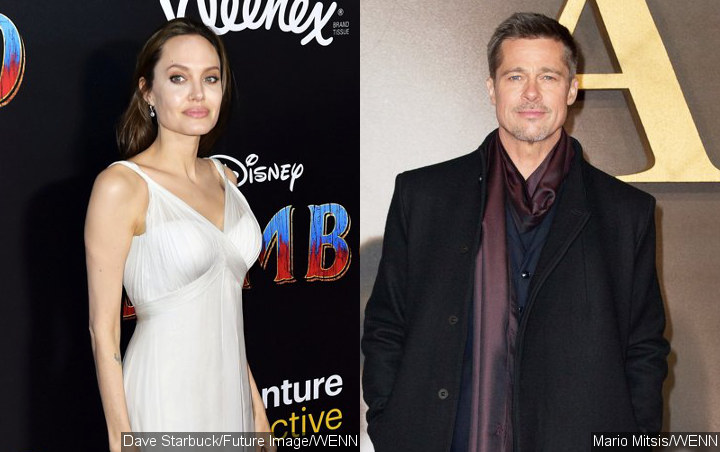 Words are the 'Maleficent: Mistress of Evil' star wants to win back her estranged husband and would like them to be a family again for the sake of their kids.
AceShowbiz –
Property settlement is apparently not the reason why Angelina Jolie and Brad Pitt's divorce continues to drag on. The 43-year-old actress, who filed for divorce from the "Moneyball" actor in September 2016, reportedly deliberately prolongs the divorce process in hopes of reuniting with her estranged husband.
"Angelina has made it clear to Brad that she wants to be back in a relationship with him," a source tells The Sun. "She would like them to be a family again and doesn't seem capable of moving on. That's why she is making it so difficult for Brad with every detail of their divorce."
The source adds that "Brad has consistently kept his mouth shut because all he cares about is his kids" and wants to keep a harmonious relationship with them. But the Oscar-nominated actor allegedly has no intention to get back with Angelina romantically.
"Angelina is making it horrendous for him and drawing out the process, but it's not going to make him consider going back," the source claims. "He just wants it all settled – in reality, this could have been over a year ago – but she won't let go."
Earlier this month, it was reported that "Brad is frustrated with Angelina as their divorce continues to drag on." A source told HollywoodLife.com, "Brad feels that Angie is continuing to be difficult and won't compromise on anything. Brad is annoyed and feels this divorce should have been settled a long time ago."
"While Brad is not interested in saying anything negative about Angie, especially around the kids, he gets upset over Angie's reluctance to settle," the source went on dishing. "The prolonged battle is continuing to cost him time, energy, and lawyer fees."
It was reported in March that the exes were negotiating a "bifurcated judgment" of their status as a married couple, which means they will both be considered divorced and single before reaching a final settlement. However, this didn't seem to show any progress either, according to the source.