Pink Makes Hollywood Walk of Fame Ceremony a Family Affair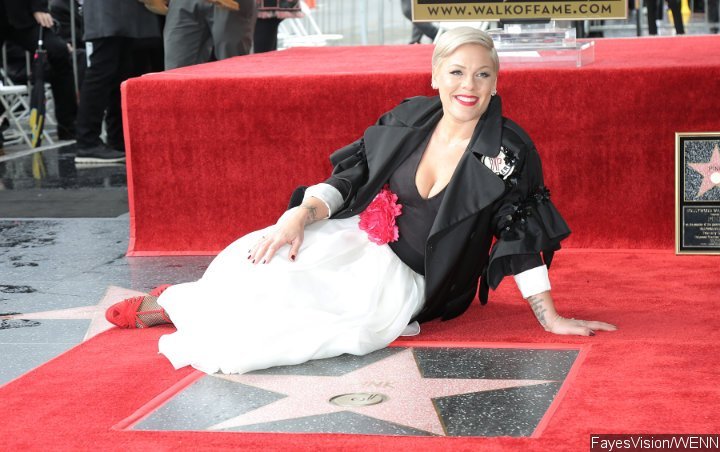 At the ceremony, Pink, who looks stunning in a low-cut dress and a pink tulle skirt with a pink flower attached to the waistline, brings along her big family.
AceShowbiz –
Pink is honored with a star on the Hollywood Walk of Fame on Tuesday, February 5. The "Just Give Me a Reason" hitmaker was joined by her family, including husband of 13 years Carey Hart and their two children Willow Sage (7) and Jameson Moon (2), at the fun-filled ceremony to celebrate her milestones.
"This is surreal," the 39-year-old songtress said of her star, which was placed next to Jackie Chan's and Dwayne "The Rock" Johnson's. "It has been a trip lately thinking back over the course of this career I've somehow managed to have. I signed my first record deal 23 years ago … and I'm only 23½ so that's crazy."
"It's been two decades and it's been meaningful and it's been awesome. Today for me is a celebration of something that my dad taught me. And that is 'to thine own self be true.' There is a power in believing in yourself — you may not be the best that ever did it, you may not be the prettiest or the tallest of the funniest or the most talented… if you're stubborn and you don't give up and you work really hard — no one else can ever be you," she continued saying in her speech. "Today is an absolute honour. Today proves that."
In addition to thanking her fans who came to support her, the pixie-haired singer gushed over her husband. "He's cute. He's my muse and if he didn't piss me off all the time I'd have not much to say. I wouldn't be standing up here if it wasn't for you. Never change," she shared.
At the ceremony, Pink, who looked stunning in a low-cut dress and a pink tulle skirt with a pink flower attached to the waistline, also brought along her big family. Also attending the ceremony to support the "What About Us" singer during one of her big days was Ellen DeGeneres.
1. Her Muse
---
Pink expressed her gratitude towards her husband of 13 years, Carey Hart, during her speech.
2. Support System
---
The happy family took a family photo with the star as they were seen sporting huge smiles.
3. Family Affair
---
Family has been a huge part of Pink's career, so it's only natural to have them on the big day.
4. Ellen DeGeneres Is Also There
---
The TV talk show gave a good laugh to the audience when she gave a speech for her friend.
5. Two Stars
---
Smiling brightly, Pink posed with her own star which she received 23 years into her career.
6. Delivering Grateful Message
---
During her speech, she thanked her fans, saying, "You guys make it matter. Thank you for coming."