Photos: Angelina Jolie and Kids Stun Fellow Guests at 'Dumbo' World Premiere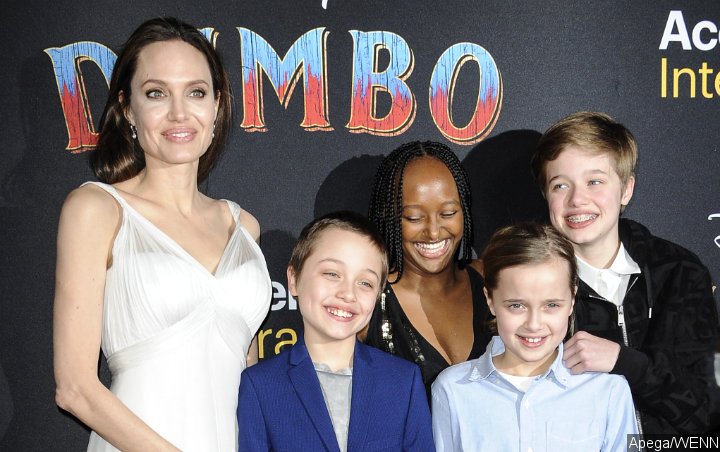 The 'Maleficent' actress and her four children, Zahara, Shiloh, Vivienne and Knox, are surprise guests at the red carpet event of the new Disney movie.
AceShowbiz –
Angelina Jolie and her kids stole the show at the world premiere of Tim Burton's "Dumbo". The actress/director and four of her children, Zahara, Shiloh, Vivienne and Knox, surprised the crowd at the El Capitan Theatre in Los Angeles on Monday night, March 11 by making a rare carpet appearance at the event.
For the special screening, Angelina looked elegant in a white dress with sheer accent. Zahara, 14, opted for a shimmery black dress. Her 12-year-old sister Shiloh wore a black jacket with matching pants. 10-year-old twins Vivienne and Knox opted for different shades of blue, with Knox wearing a navy blue pantsuit.
The fivesome were giggling while arriving and posing on the red carpet. At one point, the "Salt" star was seen putting her index finger near her lips, seemingly telling her kids to behave during the event. Angelina is starring in Disney's "Maleficent" sequel, "Maleficent: Mistress of Evil", which is due out October 18.
Colin Farrell, Eva Green, Michael Keaton and Danny DeVito were among cast members who attended the event. Helen Mirren was also spotted among the guests. The veteran actress seemed to have fun as she tried the carnival sledge hammer skill tests at the circus-themed party.
"Dumbo" is a live-action take on Disney's 1941 animated classic of the same title. It tells the story of a newborn elephant whose oversized ears make him a laughing stock in an already struggling circus. But when Holt's children discover that Dumbo can fly, persuasive entrepreneur V. A. Vandevere and an aerial artist named Colette Marchant swoop in to make the peculiar pachyderm a star. The movie is coming in U.S. theaters on March 29.
1. The Biggest Stars
---
Angelina Jolie and four of her six children stole the show at "Dumbo" world premiere in Los Angeles.
2. Keep in Order
---
The "Maleficent" actress seemingly reminded her kids to behave at the event.
3. Dapper in Checkered Pattern
---
Colin Farrell wore a brown jacket outside his black shirt and pants.
4. Bizarre Outfit
---
Eva Green turned heads with her flowing, surreal Iris Van Herpen dress.
5. Stylish in Gray
---
Michael Keaton wore a matching gray suit and pants with a necktie.
6. The Ringmaster
---
Danny DeVito stars as the owner of a small circus in the movie.
7. Full Family Support
---
Thandie Newton and husband Ol Parker came in support of their daughter Nico Parker, who stars as Colin's on-screen daughter in the movie.
8. Coupled Up
---
Joey Fatone took his wife Izabel Araujo to the premiere.
9. Having a Blast
---
Helen Mirren had fun at the circus-themed party.
10. The Mastermind
---
Director Tim Burton didn't miss the event.