Moneybagg Yo's Jealous Fan Threatens to 'Bust' Megan Thee Stallion After She Confirms Romance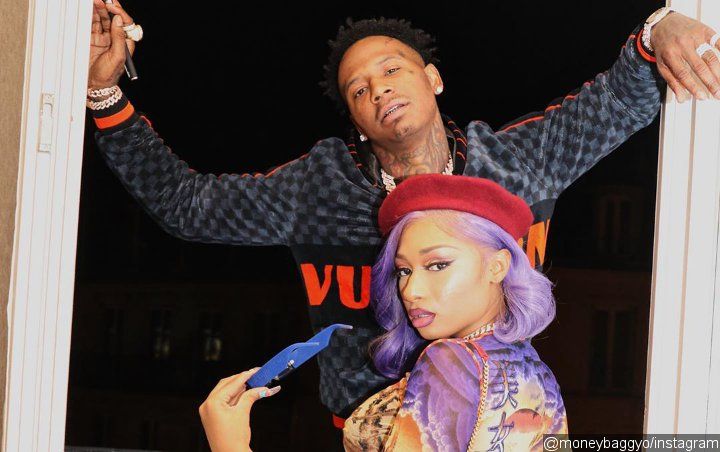 Meanwhile, others are showing their support and excitement over the revelation as they flood the comment section of the Hot Girl's Instagram post with fire and heart emojis.
AceShowbiz –
After being long-rumored, Megan Thee Stallion recently went public with her relationship with fellow rapper Moneybagg Yo. The Hot Girl raptress took to her Instagram account to share a photo of her posing with the "Lower Level" spitter.
In the photo, Megan put her back on camera while looking over her shoulder to throw a seductive gaze. Meanwhile, Moneybagg was hovering over her while flexing his jewelry on his hands and fingers. "He's a Hot Boy now," so Megan captioned the pic.
Da Brat showed off her excitement as she wrote in the comment section, "OKAY B***H !!!!" while Lala Kent said, "HOT GIRL/BOY SUMMER IT IS!!!!!" Others flooded the comment section with fire and heart emojis, showing how they approved the new couple and thought how lit they were together.
However, one particular person wasn't too happy with their romance. Taking it on Instagram Stories, the woman launched threats to both Megan and Moneybagg. "Boy ima whoop df out you," she wrote. "B***h come get this baby since you wanna be a hot boy, B***h ima bust both of y'all in y'all s**t see y'all whenever wherever h*e."
It was initially reported that the woman was Moneybagg's baby mama. However, it was later revealed that she's just a fan. The 27-year-old Memphis native shares seven children with four different women.
The two have sparked dating rumors for months with them further fueling the rumors as Moneybagg did make a few cameo appearances on Megan's Instagram Live sessions. Them going public happens after Megan released a snippet of the upcoming Hype Williams-directed "Fever" film, a featured clip set to visualize Megan's debut album of the same name.
Prior to this, Megan was also rumored to be dating Chris Brown's ex-girlfriend Indyamarie. According to Page Six, the pair were photographed cozying up to each other at the Pretty Little Thing BET launch party earlier this month. Further fueling the rumors, Megan recently asked her fans on Instagram Live if they'd condone her dating Indyamarie.
An insider revealed to the site, "They've been posting thirsty comments lately on social media." One of them was under an Instagram photo of Indyamarie lying on her stomach with her butt facing the camera. Writing in the comment section, Megan wrote, "Gurl turn yo a** around!" to which Indyamarie responded, "Babe chill."