Michelle Obama Reveals Daughters Sasha and Malia's Awkward First Kisses Around Armed Guards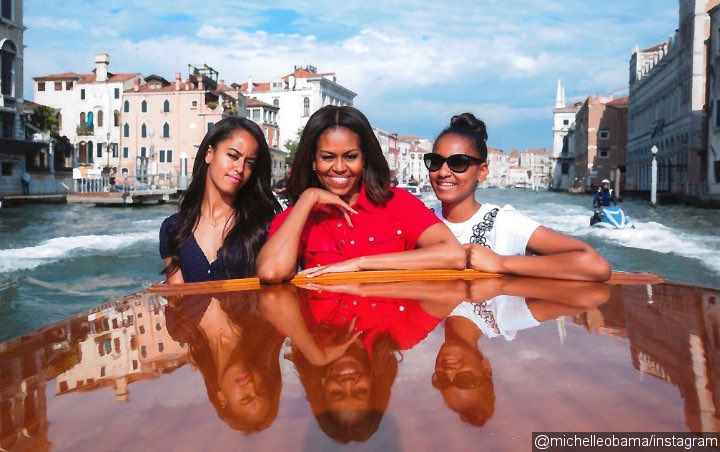 The former First Lady opens up about what it's like to grow up in the White House, sharing that the Secret Service would sweep their friends' houses when Sasha and Malia came for a sleepover.
AceShowbiz –
Michelle Obama reveals the scrutiny that came with being members of the most important family in the U.S. In conversation with Gayle King at the Essence Fest on Saturday, July 6, the former First Lady shared what it's like to be her and former President Barack Obama's daughters who grew up in the White House.
"My kids had armed guards with them at all times," Michelle said, hinting at how awkward it was when her daughters had their first kisses around their bodyguards. "Imagine trying to have your first kiss [around] a bunch of men [with guns] and ear pieces."
Let alone dating, Michelle was surprised that her daughters have friends with those strict protocols. Sharing another instance, the 55-year-old said that the Secret Service would sweep their friends' houses when Sasha and Malia came for a sleepover.
"Imagine having Malia and Sasha come to your house for a sleepover. This is the call," she went on detailing, " 'OK, we're gonna need your social security number, we're gonna need your date of birth. There will be men coming to sweep your house. If you have guns and drugs, just tell them. Because they're going to find them anyway. Don't lie. They're not gonna take 'em, they just need to know where they are. And by the way, there will be a man with a gun sitting on the front porch all night. Let him come in and use the bathroom, it would just be nice.' "
On how they would try to make their daughters' lives as normal as possible, the "Becoming" author revealed, "Our focus was to make sure they just did what they were supposed to do, and that meant we had to pretend like all the craziness around them wasn't happening. For eight years, it was like, 'Yup, yup, your dad's president. That doesn't have anything to do with you. Just take your lil' butt to school. Yes, you have security, just ignore them. They're not here for you.' "
But it was hard for the parents, too, because they would be constantly worrying about their children. "Not only were we parenting teenagers, but we were parenting teenagers who, every Saturday night, you had to worry about whether your kids are going to end up on Page Six," Michelle confessed. "It's stressful."
21-year-old Malia is now attending Harvard University, while 18-year-old Sasha just graduated from Sidwell Friends School in Washington, D.C. and reportedly will be attending the University of Michigan in Ann Arbor, Michigan.