Michael B. Jordan Practices Boxing With Sylvester Stallone in First 'Creed II' Photos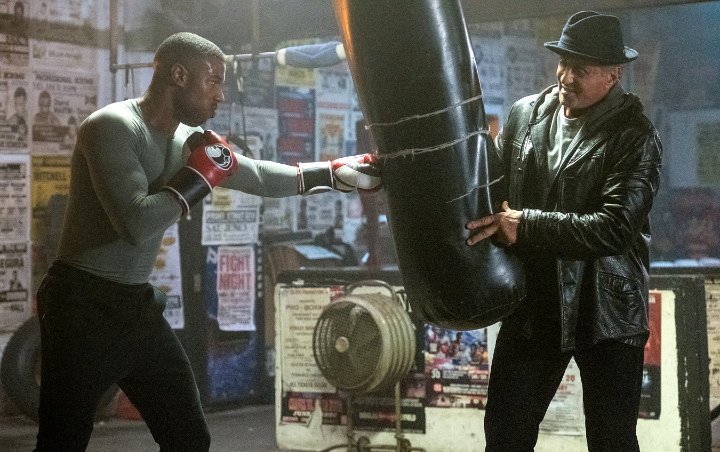 The upcoming sports drama teases fans with two photos which show Adonis preparing for his big fight.
AceShowbiz –
MGM and Warner Bros. have released two first official stills from upcoming sports drama "Creed II". One photo shows Jordan's character Adonis Creed and his mentor Rocky Balboa, who is portrayed by Sylvester Stallone, while the other one features Adonis preparing for his big fight.

Adonis is seen training in a gym with Rocky in one of the photos. Wearing a gray long-sleeve top, the fighter punches the boxing bag as his mentor and trainer holds the bag for him. Rocky, who wears a black leather jacket with matching black hat and pants, looks proud of Adonis.

In the second photo, Adonis is spotted wearing a red sleeveless hoodie, which exposes his muscular arms, trunks and red boxing gloves. He seems nervous as he prepares to enter the fighting arena with his training team behind him. One man in the team is seen carrying Adonis' title belt.

Besides Jordan and Stallone, the film also stars Tessa Thompson as Adonis' love interest Bianca, Wood Harris, Russell Hornsby, Andre Ward and Phylicia Rashad. "Rocky IV" actor Dolph Lundgren joins the cast and reprises his role as Ivan Drago, who killed Adonis' father in the past.

The official synopsis for "Creed II" reads, "Life has become a balancing act for Adonis Creed. Between personal obligations and training for his next big fight, he is up against the challenge of his life. Facing an opponent with ties to his family's past only intensifies his impending battle in the ring."

"Rocky Balboa is there by his side through it all and, together, Rocky and Adonis will confront their shared legacy, question what's worth fighting for, and discover that nothing's more important than family," the synopsis continues. "Creed II is about going back to basics to rediscover what made you a champion in the first place, and remembering that, no matter where you go, you can't escape your history."

Directed by Steven Caple Jr., the film is set to be released in U.S. theaters on November 21.