'LHH' Alum Masika Kalysha Shades Alexis Skyy for Showing Off Birthday Present From Fetty Wap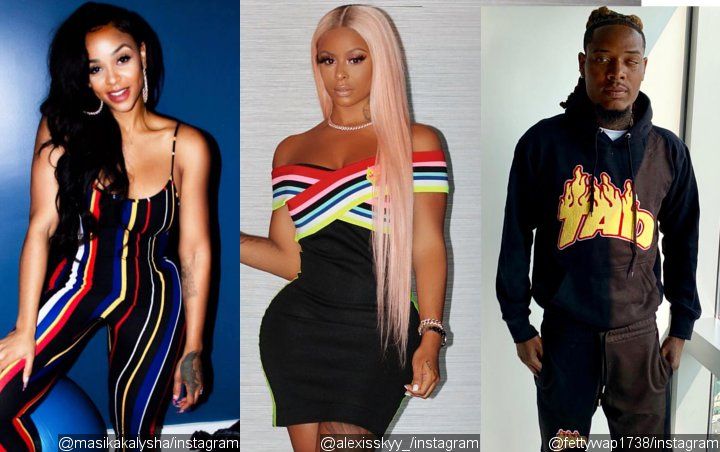 The 25-year-old TV personality shares on Instagram a video of her holding a couple of balloons and a blue Chanel bag that is given to her by the 'Trap Queen' rapper.
AceShowbiz –
The beef between Masika Kalysha and Alexis Skyy is apparently far from over. The latter recently celebrated her 25th birthday by being showered with numerous presents, including one from his ex and baby daddy Fetty Wap. Unsurprisingly, the "Love & Hip Hop: Hollywood" alum took to Instagram to show off his gift, but Masika was clearly not here for it.
Sharing a video on the photo-sharing platform, Alexis was seen in the clip holding a couple of balloons and a blue Chanel bag that was given to her by Fetty. Before entering her vehicle, she struck some sexy poses for the camera and let go of the balloons. "ITS MY BIRTHDAY THANK YOU GOD FOR ANOTHER YEAR," she wrote underneath the video.
Many were wishing her a happy birthday in the comment section, but Masika was clearly not among them. Rather, she throw a shade at her longtime nemesis on Twitter, "B****es be bragging about s**t I be tryna hide." Even though she didn't name names in her tweet, people were convinced that she was subtweeting Alexis. "Shade! We all know who she is referencing. Lord I couldn't worry about another female this much," a user said.

Masika Kalysha shaded Alexis Skyy.
Alexis has yet to respond to the diss as of now.
Masika and Alexis' feud goes way back when the former became pregnant with Fetty's child while he was in a relationship with Alexis. The two ladies have been pulling punches to each other ever since, even going as far as to make horrible allegations about one another and flinging nasty insults.
Back in April, Alexis claimed during an Instagram Live session that she saw Masika popping Xanax at the reunion special for their last season of "LHH: Hollywood" while her friend Zell joked about calling child protective service on Masika and alleged that she's an alcoholic.
Infuriated by their words, Masika dragged them in return. "I DONT PLAY ABOUT MY CHILD! I WILL DIE BEHIND MINE! I SWEAR YOU GONNA TAKE YOUR LAST BREAT BEFORE I TAKE MINE!" she wrote in all-caps before adding in another tweet, "I don't argue with dead beat moms about topics they would never understand like PARENTING."