Kumail Nanjiani Is 'So Sorry' for Canceling His Appearance on Conan O'Brien's Talk Show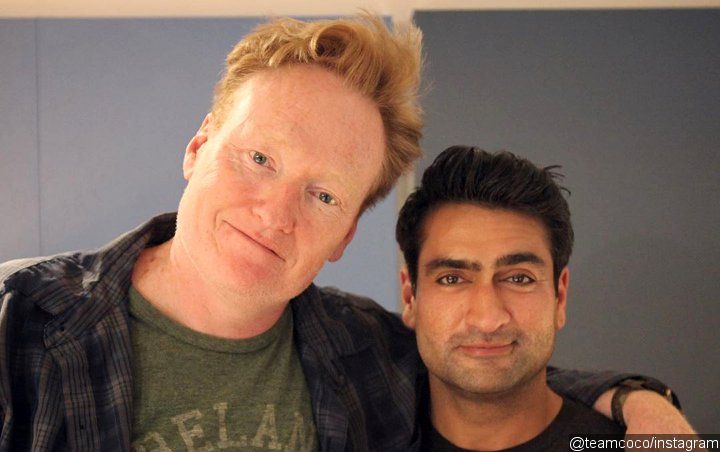 The stand-up comedian was supposed to film an episode of 'CONAN' over the weekend, but he informed the host that he would not be able to make it just 30 minutes before taping.
AceShowbiz –
Kumail Nanjiani has apologised to Conan O'Brien after cancelling an appearance on his talk show at the last minute.
Just 30 minutes before taping of the show began on Friday, July 12, Conan was told that Kumail would not be able to make it as he was stuck on set recording a different show.
"We had to scramble when @Kumalin couldn't make it last night, but I think we turned a tricky situation into something really fun," the 56-year-old wrote on Twitter, with the "Stuber" star quickly replying: "I'm so sorry Conan."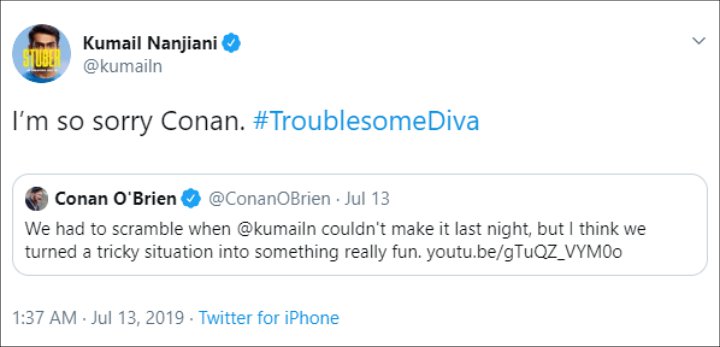 "I'm not sure what kind of program we have tonight," the 56-year-old talk show host told the audience during his opening monologue. "We have a little bit of an unusual situation going on with our show, and that is that tonight we're supposed to be having Kumail Nanjiani on the show."
"I was having my pre-show nap, and they came in and they said, 'Kumail can't get here.' When you're a show that's based on just interviewing one guest, and that guest doesn't show up, you're really screwed," Conan continued, before revealing that Kumail was not the only star who has cancelled on him at the last minute.
"Maybe 15, 20 minutes before the show started, we got a call from our guest, and it was Liza Minnelli, and she said she couldn't make it. Liza Minnelli cancelled, and she's know, you know, she's a great artist, but she's known for sometimes flaking out," he joked.