Kristen Stewart Rocks Fusion Fashion in 'Lizzie'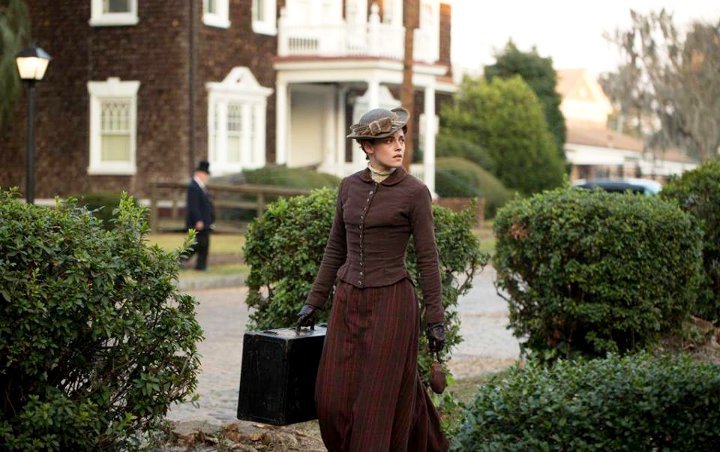 Costume designer Natalie O' Brien reveals in a new interview that the 'Twilight' star goes rebellios by mixing denim jeans and her maid character's restrictive outfits.
AceShowbiz –
Kristen Stewart insisted on wearing her favourite denim jeans underneath her maid character's restrictive outfits on the set of new movie "Lizzie".
The "Twilight" star, who is famous for her casual style, felt far too uncomfortable in the authentic 19th century outfits she had to don for the role of Bridget in the period piece, and so she brought a few items from home to make her feel a little more relaxed.
"Sometimes, she would wear her jeans under her dresses," costume designer Natalie O' Brien tells Fashionista. "I'd pass her and be like, 'What are you doing? Noooo, this doesn't look authentic.' She's like, 'I know, I'm sorry.' "
"There's even funny on set pictures that paparazzi caught of her wearing her corset and her hat and then she's got her jeans and her Converse or Vans on the bottom."
It was a very different story for Chloe Sevigny, who plays the title character in the film – she insisted on being bound up in corsets and authentic outfits from the 1890s so she could get into character as alleged axe murderer Lizzie Borden.
"In the morning, she would come up and be like, 'Can I have my corset?'" O'Brien says. "I'm like, 'You don't have a scene for another four hours.' "
And the costumer would "personally deliver" actress Fiona Shaw's corset every morning, because she loved dressing the Brit, who plays Borden's stepmother in the new film.
"She is a bundle of joy," O'Brien says, revealing she even stuck to 1890s tradition when getting the actresses ready for filming: "It goes bloomers, shoes and then the corset because they can't lean over and put their shoes on," she explains.