Kim Kardashian Accused of Photoshop Fail Again After Sharing This Nude Picture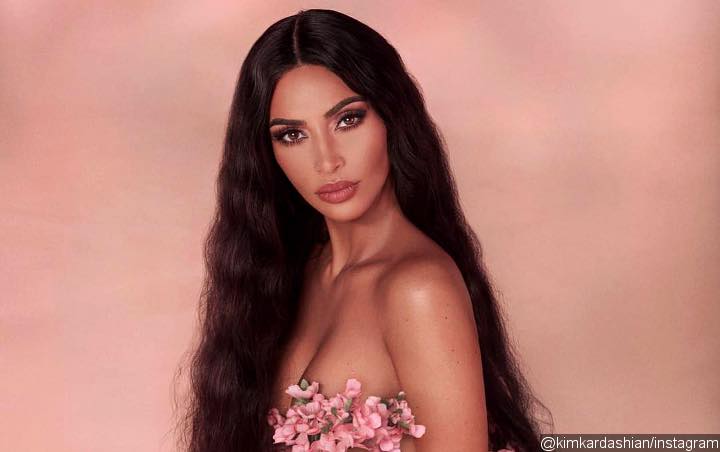 Despite how beautiful the mother of three looks in the picture, many can't help but notice that her rib and breasts look unnatural.
AceShowbiz –
Kim Kardashian just wanted to promote her new makeup collection when she shared on Instagram a racy picture of herself. Instead of getting praises, the KKW Beauty founder was once again slammed for seemingly photoshopping the picture.
The image in question showed her stripping to her birthday suit while sitting on a bed of cherry blossoms. Her assets were perfectly covered by strategically placed pink petals as she stared seductively into the camera. She let her raven hair down in the photo and wore makeup from her Cherry Blossom Collection.
Despite how beautiful she looked in the picture, her online devotees couldn't help but notice that her rib and breasts looked unnatural. "Photoshop here is so bad, how does this get past everyone? Like your boob is enormous then your ribcage bone is just jaunted out? Ugh so so bad!" one fan pointed out. One other decided not to be too harsh on Kim as s/he wrote, "Beautiful but photoshop on fleek. She looks so thin here. She's more thicker isn't she??"
"Why does your butt look so small in this? That's right photoshop," another commented. Some others wrote similar comments like, "Hella photoshopped," "Very bad Photoshop!" and "Horrible photoshop!! What's happen with your belly?"
Kim has yet to respond to the accussation.
Her Cherry Blossom Collection will be available starting from Friday, September 14. The collection, which was inspired by Kim's "love for the pretty pink-colored trees," includes a 10-pan eyeshadow palette, 3 blushes, 8 lipsticks and 3 lip liners "in shades of pretty pinks and berries."
Besides preparing for the launch of her new makeup line, Kim has recently signed up for a course in a law school. "My wife is in law school, and it's extremely serious to us," Kanye West revealed, before talking about her work on getting convicted prisoners released. "There's two million African-Americans incarcerated now… We're going to get people out, period."