Is She Alright? Snooki's 4-Year-Old Daughter Breaks Arm After Falling Off Bed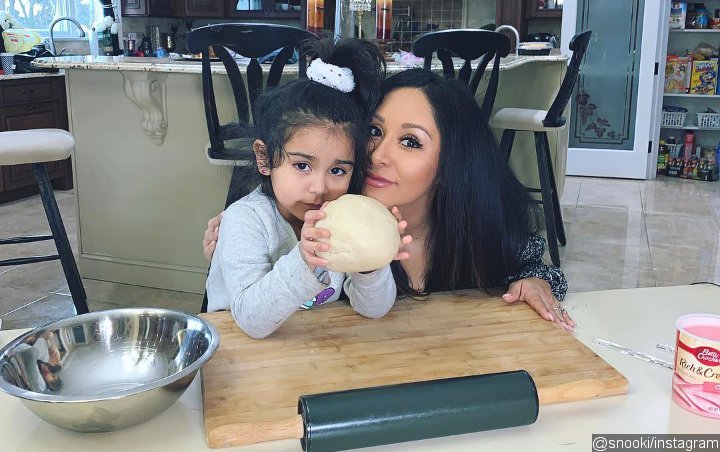 In order to make her daughter Giovanna Marie feel a little bit better, the MTV personality treats her to some new toys.
AceShowbiz –
Nicole "Snooki" Polizzi's daughter Giovanna Marie is recovering after breaking her arm. The TV personality shared to her social media followers on Wednesday, March 6 that the 4-year-old girl broke her first bone after falling off a bed, so she had to wear a sling for sometime.
Sharing on Instagram Stories a video her Giovanna's X-ray, the "Jersey Shore" star said, "Yesterday was a mess for me. This is my daughter's X-ray. She fell off the bed on Saturday and I swore it was just bruised, but it still hurt yesterday, so I went to get her looked at. My poor baby! She broke that bone up there and she got a little chip. She should be fine in like four weeks, but what a sin. My poor baby."
She added in the caption, "She's okay! All smiles and still the same sissy! Just has to take it easy."
Snooki later took to an Instagram account dedicated to her daughter to upload a photo of Giovanni sporting her black sling. Despite having broken her arm, the girl tried to put on a brave face when she posed for the camera. "Sissy broke her first bone. Mommy told her smile as she tried on her sling so we can laugh about it when she's older," the "Jersey Shore: Family Vacation" star captioned the pic. "She's doing just great & cant wait to be 100% again!"
In order to make Giovanna feel a little bit better, Snooki decided to treat her daughter to new toys, including a stuffed bunny and a jigsaw puzzle.
Giovanna is Snooki's second child with husband Jionni LaValle. The couple also shares a six-year-old son named Lorenzo Dominic and is currently awaiting the arrival of their third child, a baby boy. Speaking to PEOPLE at The Cut's "How I Get It Done" conference in Brooklyn, New York earlier this week, Snooki said that she wouldn't take a long maternity leave after giving birth to her son.
"I'm probably gonna take a couple of days off but my mental state is always thinking about work and my brand, and expanding it and improving it and making it better," she said. "So taking a day off … that stresses me out, actually."