Hailey Baldwin Tells Selena Gomez to 'Stay Away' From Justin Bieber Because of This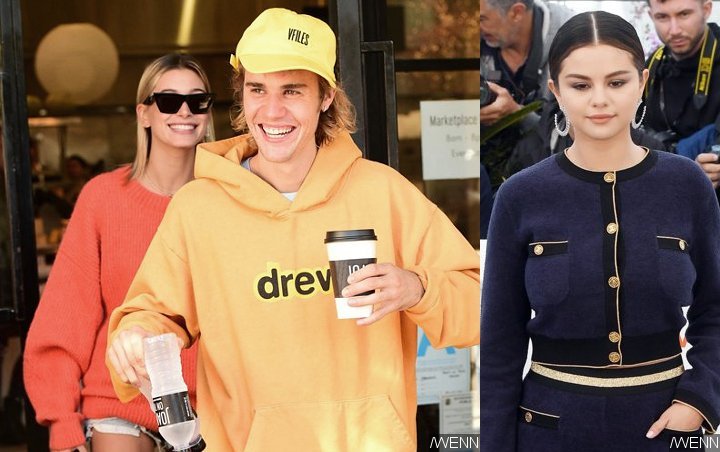 As for Selena's response, the 'Wolves' songstress is allegedly laughing at Hailey as a source notes that the Canadian singer will always love the former Disney darling.
AceShowbiz –
It seems like Hailey Baldwin will do everything at any cost to keep Justin Bieber with her. A new report suggests that the 22-year-old model is coming at her husband's ex Selena Gomez and makes sure she knows that he's hers after finding out something she doesn't like on his phone.
A source close to Selena reveals to Radar Online that "Justin is constantly talking about Selena, and Hailey is at her boiling point with all of this."
Having had enough of that, Hailey allegedly "exploded" when she found out that Justin had text messages from the "Wolves" singer on his phone. "When she caught Justin with Selena texts on his phone last week, Hailey absolutely lost it," claims the source. Additionally, Hailey is said to be reaching to Selena "to tell her to stay away from her man!"
As for Selena's response, the "I Can't Get Enough" songstress is allegedly laughing at Hailey. "Selena thinks all of this is just hilarious because she knows that Justin will always love her and that Hailey is disposable. The worst part is that Hailey knows this too," the source further says of the 26-year-old singer/actress, who is currently in Cannes, France, promoting her newest movie "The Dead Don't Die".
"There is truly nothing that Hailey can do to change how Justin feels," says the insider. "He is talking to Selena again and the two of them are on good terms. Hailey is a small blip in his life and everyone knows that it is just a matter of time before she is out of the picture."
While Selena has fully recovered from her mental breakdown last year, Justin announced earlier this year that he would take a break from music industry to focus on getting better mentally. With Hailey supporting him, Justin has been hinting that he's recovering and is planning to drop a new album really soon.