George Clooney Gives Up His Harley-Davidson After Motorcycle Ban From Amal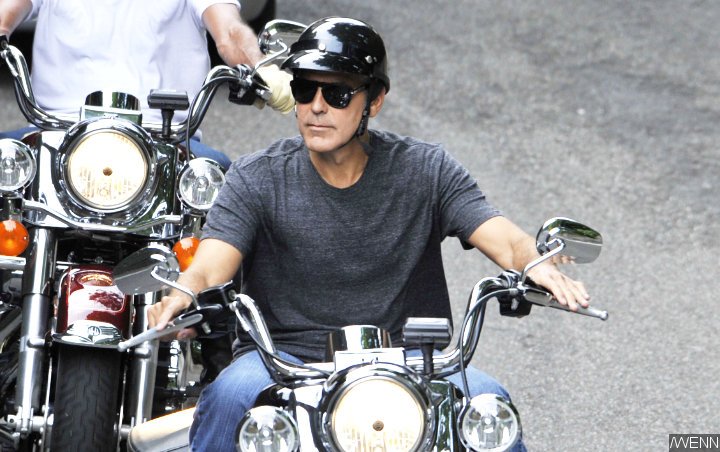 The 'Money Monster' actor will likely please his wife Amal by donating his bike to Homes for Our Troops charity after his wife tried to get him off motorbikes for good since his scooter accident.
AceShowbiz –
George Clooney is giving up one of his prized Harley-Davidson motorcycles for a good cause. The 57-year-old actor/director is donating his 2017 Dresser Touring Ultra Limited FLHTK Harley Davidson to the Homes for Our Troops charity, a nonprofit that provides injured veterans with homes.
The bike is up for auction on eBay. The starting bid is listed as $25,000. According to the description on the website, the bike is "brand new" with "only 25 MILES ON THE ODOMETER." The "Ocean's Eleven" star will also sign the bike for anyone who wins the bid.
');(playerPro=window.playerPro||[]).push(i);})();
While helping injured veterans, George's action to donate his Harley-Davidson will also likely please his wife since he's banned from motorbikes following a scooter accident in Italy last July. The eBay auction page claims "his wife Amal has told him he's off two wheels for good."
The likes of Paul Rudd, Ben Stiller, Owen Wilson, Kenny Chesney and Stephen Curry also participate in the charity which was set up by Ellen DeGeneres, Beastie Boys, Tiger Woods and CNN anchor Jake Tapper.
"Ant-Man" star Paul is auctioning off an intimate lunch for two, Owen is up for a tennis match against his highest bidder, and Kenny offers a personalize guitar and meet-and-greet to one winner.
Ben is offering a chance to watch a New York Knicks home game with him, Jake Gyllenhaal auctions off tickets for his upcoming off-Broadway production "Sea Wall/A Life", while Judd Apatow is giving a chance to the highest bidder to visit the set of his latest project. The auction runs until November 15.
George was involved in a fatal accident on the Italian island of Sardinia on July 10. Footage from the accident showed him being thrown off his bike and flying over the front of his scooter before landing in the road. Luckily, he only suffered a few bruises with no broken bones.