'Game of Thrones' Shatters Emmy Awards Records With 32 Nominations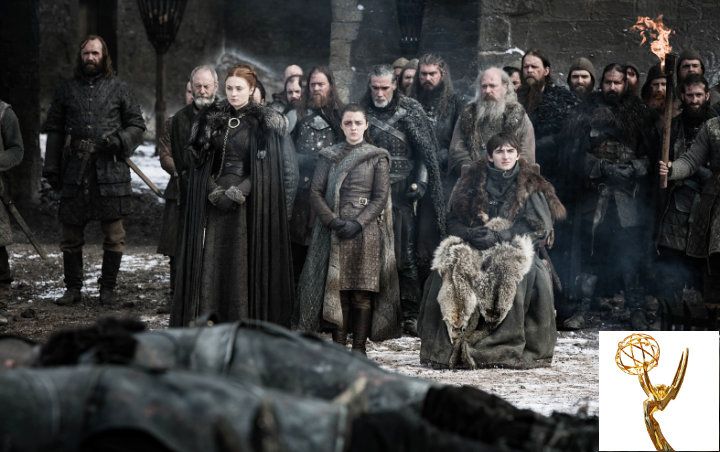 Following closely behind with 20 nods is 2018 Outstanding Comedy Series winner 'The Marvelous Mrs. Maisel', whereas 'Chernobyl' collects 19 and 'Saturday Night Live' picks up 18.
AceShowbiz –
"Game of Thrones" has shattered Emmy Awards records by picking up 32 nominations on Tuesday morning (July 16).
The final season of the show wasn't a hit with all fans but Emmy voters were impressed, making it a favourite for the Outstanding Drama Series prize, up against "Better Call Saul", "Bodyguard", "This Is Us", and "Killing Eve", while stars Emilia Clarke and Kit Harington have landed top acting nods for their roles.
Defending Outstanding Comedy Series champion "The Marvelous Mrs. Maisel" is also up for a big night at the Primetime Emmys on September 22 after landing 20 nominations, while acclaimed HBO drama "Chernobyl" picks up 19 and sketch comedy show "Saturday Night Live" scores 18.
Nomination highlights include the fact that "Killing Eve" stars Sandra Oh and Jodie Comer will face off in the Lead Actress in a Drama Series race, and best pals Sophie Turner and Maisie Williams are competing for the Outstanding Supporting Actress in a Drama Series award opposite castmates Lena Headey and Gwendoline Christie.
The main list of nominees is:
OUTSTANDING DRAMA SERIES
OUTSTANDING COMEDY SERIES
OUTSTANDING LIMITED SERIES
OUTSTANDING TV MOVIE
OUTSTANDING LEAD ACTRESS IN A DRAMA SERIES
OUTSTANDING LEAD ACTOR IN A DRAMA SERIES
OUTSTANDING LEAD ACTRESS IN A COMEDY SERIES
OUTSTANDING LEAD ACTOR IN A COMEDY SERIES
OUTSTANDING LEAD ACTOR A LIMITED SERIES OR MOVIE
OUTSTANDING LEAD ACTRESS A LIMITED SERIES OR MOVIE
OUTSTANDING SUPPORTING ACTRESS IN A DRAMA SERIES
OUTSTANDING SUPPORTING ACTOR IN A DRAMA SERIES
OUTSTANDING SUPPORTING ACTRESS IN A COMEDY SERIES
OUTSTANDING SUPPORTING ACTOR IN A COMEDY SERIES
OUTSTANDING SUPPORTING ACTRESS IN A LIMITED SERIES OR MOVIE
OUTSTANDING SUPPORTING ACTOR IN A LIMITED SERIES OR MOVIE
OUTSTANDING VARIETY TALK SERIES
OUTSTANDING VARIETY SKETCH SERIES
OUTSTANDING VARIETY SPECIAL (LIVE)
"The 76th Annual Golden Globe Awards"
"The 61st Grammy Awards"
"Live In Front Of A Studio Audience: Norman Lear's "All In The Family" And "The Jeffersons""
"The Oscars"
"72nd Annual Tony Awards"
OUTSTANDING VARIETY SPECIAL (PRE-RECORDED)
OUTSTANDING INFORMATIONAL SERIES OR SPECIAL
OUTSTANDING COMPETITION PROGRAM
OUTSTANDING STRUCTURED REALITY PROGRAM
OUTSTANDING UNSTRUCTURED REALITY PROGRAM
"Born This Way"
"Deadliest Catch"
"Life Below Zero"
"RuPaul's Drag Race: Untucked"
"Somebody Feed Phil"
"United Shades Of America With W. Kamau Bell"
OUTSTANDING HOST FOR A REALITY OR COMPETITION PROGRAM
OUTSTANDING GUEST ACTRESS IN A DRAMA SERIES
OUTSTANDING GUEST ACTOR IN A DRAMA SERIES
OUTSTANDING GUEST ACTRESS IN A COMEDY SERIES
OUTSTANDING GUEST ACTOR IN A COMEDY SERIES