'Four Weddings and a Funeral' Charity Sequel Helps Raise Over $53M on Red Nose Day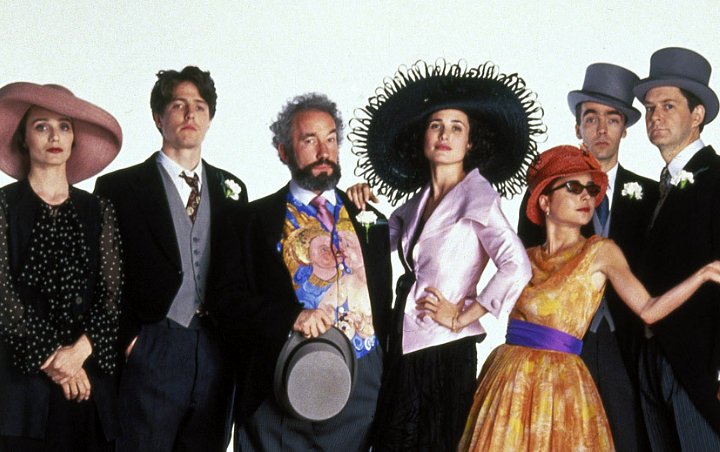 Bringing back together the cast from the 1994 romantic comedy, the short film made to raise money for Comic Relief offers a twist ending that involves Lily James and Alicia Vikander.
AceShowbiz –
A "Four Weddings and a Funeral" reunion helped raise over $53 million (£40 million) for Comic Relief during 2019's Red Nose Day telethon in the U.K. on Friday night (March 15).
The original film's writer, Richard Curtis, reassembled the cast from the 1994 romantic comedy for a new short, which ended with a same sex twist as Lily James, the daughter of Hugh Grant and Andie MacDowell's characters from "Four Weddings", tied the knot with her girlfriend, played by Oscar winner Alicia Vikander.
Rowan Atkinson, who depicted a bumbling vicar in the original, reprised the character and officiated the nuptials.
I HAVE DIED AND GONE TO HEAVEN!! ALICIA IN A SUIT GETTING MARRIED TO LILY IN THE "ONE RED NOSE DAY AND A WEDDING" SPECIAL FOR RED NOSE DAY!!!!!!!!! LOOK AT HOW CUTE THEY ARE AND THEY ARE EVEN CUTER AT THE RECEPTION!!!!!!!!!!!!!!! pic.twitter.com/xzX2E6CtwG

— Kayse (@kayserose) March 15, 2019
There was also a "Bodyguard" skit, in which Joanna Lumley played a flirtatious Prime Minister opposite the hit drama's star Richard Madden, while another Red Nose Day highlight was a parody of 2018's "Mamma Mia! Here We Go Again", written by comedienne Jennifer Saunders.
The sketch featured Carey Mulligan and Gemma Arterton recreating scenes from the ABBA musical sequel.
During the telethon, host Lenny Henry took time to offer up support to pop star Louis Tomlinson, who was forced to pull out of the fundraising festivities following the death of his teenage sister earlier in the week. He also shared condolences with the relatives of those killed in the Christchurch, New Zealand mosque massacres.
"Can I just say at this moment how profoundly we share everyone's sorrow about recent events in New Zealand," the host said. "We send our condolences and respects to the families and stand shoulder-to-shoulder despite those who wish to do harm."
The 2019 Red Nose Day telethon opened with David Beckham poking fun at his questionable fashion choices over the years, suggesting they were all sponsored to raise cash for Comic Relief.
By the close of the telethon, the Red Nose Day stars had helped to raise a total of $54,257,265 (£40,739,891).