Dwayne Johnson Removes Photo of Unclothed Daughter on Swimming Pool After Backlash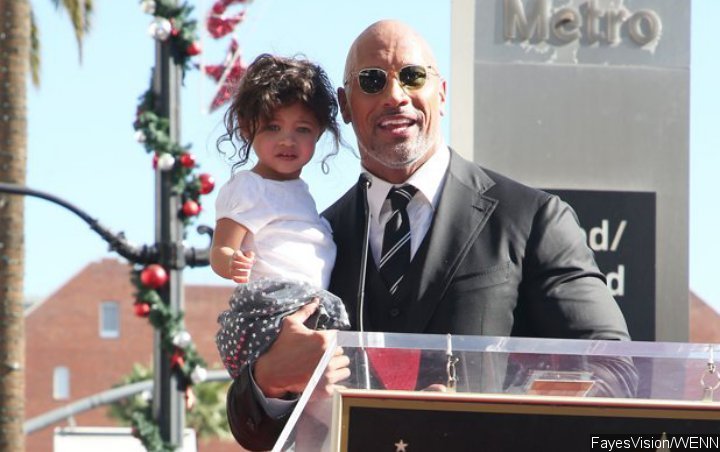 The 'Jumanji: Welcome to the Jungle' actor comes under fire after posting a picture of his 3-year-old daughter Jasmine standing near the water with no bathing suit on.
AceShowbiz –
Dwayne "The Rock" Johnson was heavily criticized by Internet users after recently sharing a picture of his daughter Jasmine learning to swim. The photo, which was intended to show how the 3-year-old girl conquered her fears, was met with backlash as it showed the tot naked.
According to Good Housekeeping and Yahoo, the image featured the professional wrestler-turned-actor with his daughter Jasmine, who was standing near the water about to jump into the waiting arms of her father. The "Fast & Furious Presents: Hobbs & Shaw" star, however, was forced to delete the picture after Instagram users took issue with the fact that the girl was not wearing a bathing suit.
"I love the Rock but this pic isn't necessary for social media. They made bathing suits for a reason," one tried to explain his/her objection to the picture. Another criticized the 47-year-old star, "Why would you expose a young child's body to millions of people?" Wrote another commenter, "I'd never post a pic of my child naked in a pool on social media…I understand the message that is being conveyed but there are some messed up people out there."
Some others, however, didn't see anything wrong with the picture. More than 2.9 million people liked it before Dwayne took down the photo, with some of them defending the action movie star.
"Those who are sexualizing this picture of his daughter because she is swimming with no clothes on obviously don't know what it's like to grow up in the islands or in a Polynesian house hold," one wrote. "This is very normal and not sexual in any way with our culture."
Jasmine is Dwayne's first child together with his longtime partner Lauren Hashian. The couple has another daughter, 1-year-old Tiana. The "Rampage" actor also shares 17-year-old daughter Simone with his ex-wife Dany Garcia.