Cole Sprouse and Lili Reinhart Drive 'Riverdale' Fans Wild With New Intimate Selfie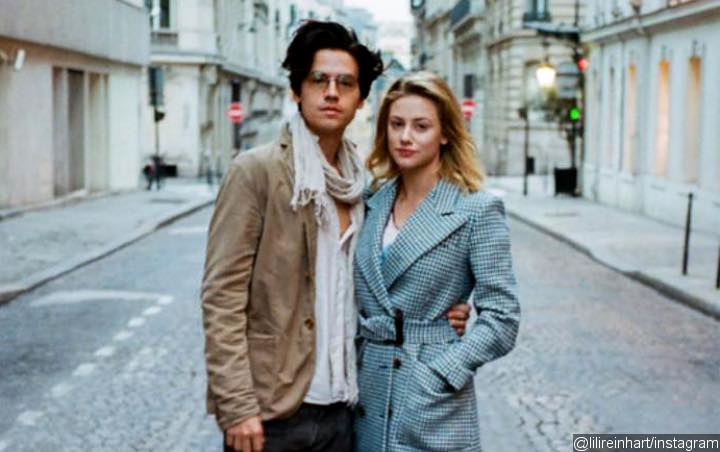 Many fans note how cute they look together in the picture, with one fan saying that the actor 'just broke the internet' by posting the image.
AceShowbiz –
One month after making their relationship Instagram official, Cole Sprouse has finally shared on the platform his first photo with Lili Reinhart. And even though the image might be blurry, it was enough to make "Riverdale" fans, especially Bughead shippers, swoon over them.
Both Cole and Lili were seen laughing. Their faces were close to each other. The Jughead Jones depicter also appeared to be sticking his tongue out as he leaned closer to his actress girlfriend, as if he was about to kiss her. "It's pretty, pretty late," he simply wrote in the caption.
Fans of the couple flooded the comment section with gushing messages as soon as they saw the picture, with many noting how cute they looked together. One fan even said that Cole "just broke the internet" by posting the picture. "I hope they don't break up after the show ends. I want them to get married," another wrote, while one other recalled "having a mental breakdown at school today because of this so thanks a lot."
Cole and Lili sparked dating rumors after they were allegedly canoodling, holding hands and kissing at Entertainment Weekly's Comic-Con Bash in San Diego back in July 2017. Later in August, the pair were spotted having a movie date in between filming of season 2 of "Riverdale", which premiered in October, in Vancouver.
After dodging questions about their long-rumored romance, the pair made their relationship Instagram official during Cole's 26th birthday. The Betty Cooper depicter posted a photo of Cole alongside a birthday message that read, "It seems as if the world would still be a stranger to me, if nore for you. I'm so thankful that our paths intertwined to form this beautiful adventure. Happy birthday, my love."