Chrissy Teigen: Sitting Next to Oprah Winfrey and Michelle Obama Reduced Me to Tears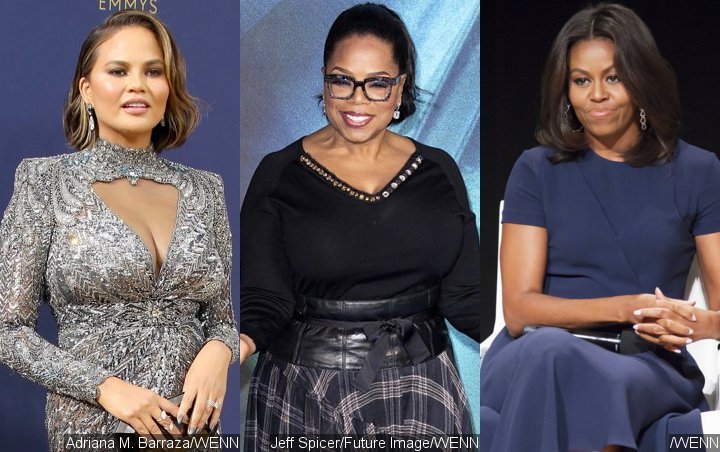 The model wife of John Legend recalls the time she questioned her plan for her life when sitting on the same table with the two powerful women at Time 100 gala in 2009.
AceShowbiz –
Chrissy Teigen once cried at an event after feeling inferior to husband John Legend's A-list friends, including Oprah Winfrey and Michelle Obama.
The 32-year-old model is one of Glamour magazine's women of the year, and in the accompanying interview she admitted that before she became the queen of Twitter, she didn't have a plan for her life.
');(playerPro=window.playerPro||[]).push(i);})();
"When I look at the most successful people around me, I feel like they all had plans," she told U.S. Glamour. "But I never had a plan. Never. I used to be on anti-anxiety medication because I was confused. I didn't know where I was going in life. All I knew when I was younger, or when I was 18, was that I wanted kids and a husband."
The Sports Illustrated model married singer John in 2013, and the couple now have two children, Luna, two, and Miles, five months. In the interview, she recalled a low moment in 2009, when she attended the Time 100 gala with her now-husband and his A-list friends.
"It was a table of, like, Oprah, Michelle Obama, and this woman who ran an incredible charity about sex trafficking in Southeast Asia," she explained. "At this point, I wasn't anything. I remember going back to his dressing room and sobbing."
Soon after, Chrissy found her voice on Twitter, amassing over 10 million followers thanks to her witty posts and clapbacks.
"People are like, 'Why do you have time for all of these strangers?' " she smiled. "But that is my outside connection to the world. I genuinely love doing it. I always have. I enjoy talking to people and feeling like I know them and having this conversation."
"I still don't know my exact job title," she noted. "I have no idea what is going to happen six months from now. I don't know anything. But maybe that's the way it works for a lot of people. And I'm OK with that."