Blac Chyna's Mom Wants to Challenge the Kardashians to 'Death Match' in NSFW Rant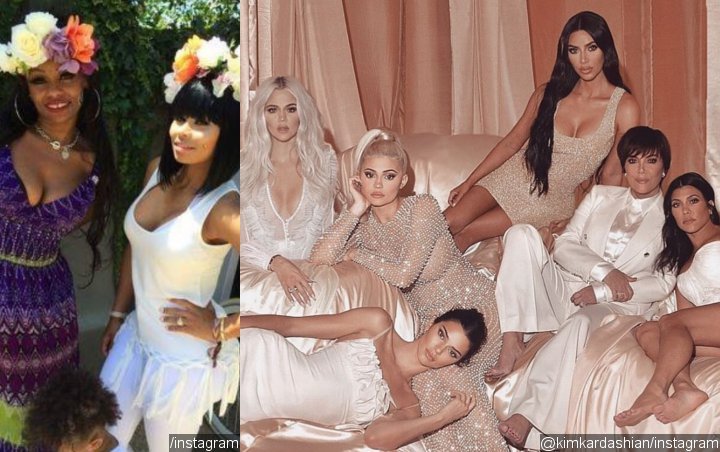 Launching into a rant on her private Instagram page, Tokyo Toni lists all the reasons why she can't like the famous clan and urges them to 'sit the f**k down.'
AceShowbiz –
Fans apparently weren't the only ones who didn't like seeing Wendy Williams hanging out with Kris Jenner and Kim Kardashian. Blac Chyna's mom, Tokyo Toni, despised their outing so much that she wanted to challenge the famous family to a death match.
Tokyo didn't hold back at all when she attacked the Kardashians on her private Instagram page, starting it by calling out the matriarch, "F**k Kris pimpinge no love giving a**!!! And she wonder why RIB HARE HER A** take over a** b***h using her kids minds and thoughts!!" She went on dubbing Kris "backstabbing S**TS," before saying that her daughter is a stalker. Tokyo might be referring to Kendall Jenner, who once admitted to creating fake Instagram accounts to stalk her ex-boyfriends.
"F**K KIM KENDALL KYLE KOURTNEY KHLOE AND YALL THE MAID BUTLER SND (sic) YALL DRY Can't keep a man P*****S Jesus…," she continued ranting, listing the reasons why she couldn't ever like them. Tokyo then urged the clan to "sit the f**k down" and "go help somebody homeless!!! ' z instead of putting that Botox in your face take them money and make some sandwiches do that."
Not stopping there, she made a reference to their plastic surgery accusations by saying, "Nothing is going to stop all age not even surgery you're going to look like a s***ty mess seven years from now!! FACTS Just how much skin can you really pull back if it's not on a d**k."
Tokyo also called the Kardashians "f***ing Spider pig" and "fake," before ending her rant by challenging the family to a "death match." She wrote, "Ugh I wanna DEATH MATCH YOU KIM KENDALL KYLIE AND YOU K LEG BAD BODY BUILT ' Snitched from the face to the waist b***es!! You cornball b***h."
All members of the Kardashians have yet to respond to the attack, though it's highly unlikely that they will do that.