50 Cent Slams Bow Wow for 'Stealing' His Money and Calling Ciara 'B***h'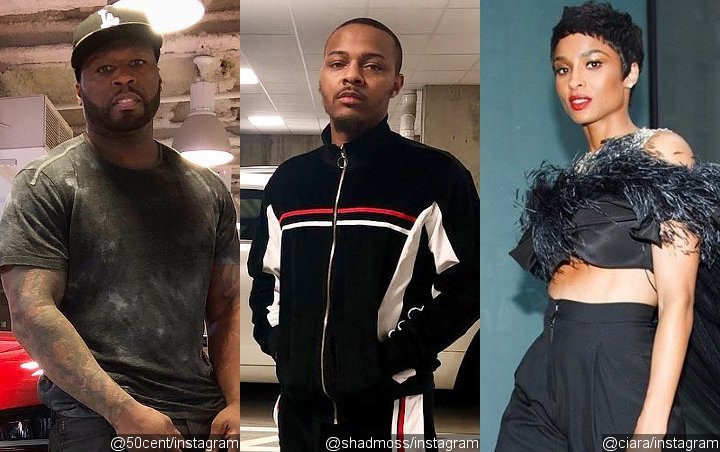 Taking to his Instagram account, the 'In Da Club' hitmaker claims that the 'Growing Up Hip Hop: Atlanta' star took away his money when they were partying with strippers at Allure in Atlanta.
AceShowbiz –
Bow Wow has officially been added to the long list of people who have troubles with 50 Cent over money. The "In Da Club" hitmaker took to his Instagram account on Wednesday, June 12 to accuse the 32-year-old of stealing his money. Fofty additionally managed to drag Ciara into their problem in the process.
It all started when both of them were partying with strippers and several fellow rappers on Monday night, June 10 at Allure in Atlanta, where Fofty was hosting the event and apparently giving out stacks of money to other celebrities to make it rain on the dancers. But it appeared Bow Wow thought that he could keep the money and took it with him.
Sharing Bow Wow's Instagram Stories video of the money, Fofty wrote in the caption, "Oh s**t, this little n***a BOW WOW took the Money home with him." He then told one of his friends to "get him before I kill EM." Fofty later posted a video of the money he brought in with him before doubling down the accusation and ordering the "Growing Up Hip Hop: Atlanta" star to bring the money back to him.
"We came there like this. Bow wow stealing ones why the f**k you ain't throw that to the dancers. You better get me my f***ing money by Monday," he wrote in the caption of the post, following it up with a video of Bow Wow collecting the money inside his pants. "[Jermaine Dupri] what kinda s**t is this you brought this n***a around man. He stealing the one's," the "Candy" rapper said.
Fofty obviously would not end his attack just like that. Hours later, he uploaded a video of Bow Wow holding a stack of money in his hand while smiling brightly. "Movie money before him. Tv money before him, b***es before him did her just call [Ciara] a b***h she's not gonna like this," he captioned the video, once again urging him to give the money back. "Don't be ever doing s**t behind my back again," he added.
Bow Wow has yet to respond to the attack.